Afternoon mummies & babies Hope we are coping with the heat where ever you are..
~petrie_h ~ thanks, cant wait for the group to start, have been waiting for the health clinic to get me in touch with one but had no luck so i just got the girls from our antenatal class togehter, with some friends and that. Gee i hope you dont ahve another power outage that would suck bigtime.. Good luck tomorrow. Belle is growing nicely will get her weighed on thursday
~ROSE~ how on earth did she manage to get her eyelashes cut off??? thats poor supervision big time!!!!!
good luck with the parent teacher interview
~MEL~ Congrats on Sam's first smile
Thanks i love that pic of her, she has been smiling soo much
i figure i have the time since Belle is sleeping. Am baking a Chocolate Mud cake, will see what it's like later when DH gets home he can attend to Belle while i have a cuppa and cake and get on EB.lolv plus i have done all the house work.. this way i get a chocolate fix too
~Kate~ Am glad that things have gone well at the doctors. cant wait to see a pic
You would not believe that i worte this out earlier but went to get a pic and closed it down argh, then Belle woke anyway so we went for a walk over to the shops and came back and she was asleep again,YAY... She sat in her rocker while i took washing off the line,wearing her hat she looked adorable, but hey i guess i'm bias...
have a few questions.
i got asked by a friend!!
1. What do you miss about being pregnant?2. What don't you miss about being pregnant?3. What do you love about being a mum?4. How is your partner enjoying being a dad?
My answers
1. What do i miss about being pregnant??
I miss not being able to feel Belle kicking around, and rubbing my belly, and the whole experience or being pregnant. But love that she is here now
2. What don't i miss about being pregnant?
I don't miss my swollen ankles, sore back or getting up every hour to go to the bathroom..
3.What do you love about being a mum?
I love the whole experience from giving birth to seeing her first smile and the way she babbles, when she tries eating her hands, i love everything about being a mum Even being TIRED!!! it's jsut so rewarding especially when she looks at me with those big blue eye's and smiles
it melts my heart
4. How is your partner enjoying being a dad?
My DH is loving every moment he does anything and everything for Belle, he doesnt mind getting woken up and he jsut adores her. At first he was nervous and not very confident, but now he has become awesome, he loves giving her baths and feeding and doesnt care about anything else
. it's been the best thing for us both
Well there we have it..lol will be interesting.. well i better go and do some folding and perhaps irioning and not forget about the cake in the oven,lol
Have a great afternoon talk later
(((hugs)))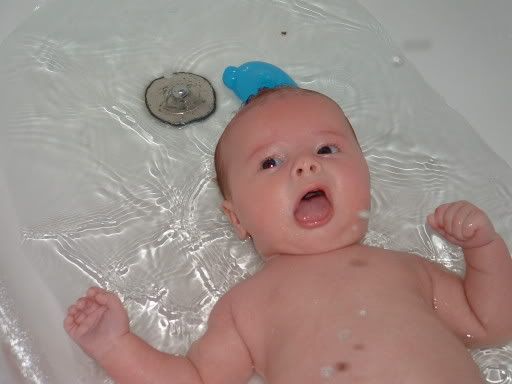 Belle loves bath time
~Butterfly~ not good that he has been awake so long and is only cat napping.. i bet you were kicking yourself getting the wrong batteries i do it all the time,,lol. Fantastic to hear that he only want your boobie a tyical guy isnt he,lol
~Jenks~ hope that Chelsea gets better and that the problem can fix it's self. am thinking of you both.
Take care girls *hugs* to you all