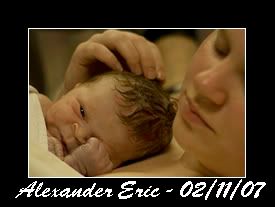 Well I guess it all started Wednesday night really. My mother was visiting and I commented that I had started to feel a little periody? mild cramping that was mostly in my lower back and thighs. It was pretty constant I thought and she commented that it was probably the start of something in the way of pre-labour. Given that the pain stopped soon after she left I realised she was probably right in that it was a mild early contraction.
This continued pretty much through Wednesday night? I was uncomfortable and they were happening every 20 minutes or so but I managed to sleep on and off even though it was pretty broken.
Thursday morning they were a little more intense but still quite tolerable. I decided though at this point that it was probably better not to drive to my antenatal appointment and my mother agreed, offering to drive me there. As my sister was in hospital having sinus surgery I called to see if I could change the location from the health centre clinic to to the hospital so we could be there when she went to recovery.
They were coming every 20 minutes still but a little stronger, more obvious... Still all the pain was in my back and legs. Just before the appointment I had a small show and it was becoming more apparent that things were moving. Actually it wasn?t even pain yet at this point, just really uncomfortable.
The midwife I saw was lovely and it was agreed that I was in pre-labour. My BP was a little elevated but that was assumed to be because of labour. As I had mentioned the prospects of having an internal and a S&S the midwife organised for me to see a registrar based on the slightly high BP.
The registrar was happy to do the internal and found me to be 2cm dilated and fully effaced! Apparently my cervix was ?wafer thin? (well, paper thin but a little reference there for all the Monty Python enthusiasts) and she did not expect me to make it past the weekend.
By Thursday afternoon they were stronger again and required a little more effort to work through. Actually they were bad enough that a few ow ow ow?s made it along the way and I did not sleep at all that night due to the discomfort and we were all a bit disappointed to see that I was not much further along the next day.
Contractions were really very obvious by Friday morning but still only 15 ? 20 minutes apart. We decided to go to the hospital and have a progress check done and were rather disappointed when Wayne, the midwife said I was still only 2cm dilated though he could feel the head. I had a CTG which picked up the contractions but they were only averaging at a strength level of around 30. I was sent home and told to call when the contractions become regular and painful enough that I want to tell everyone to F-Off? Not that this was a surprise, it was only a progress check after all and I had not expected to be admitted. Other than that the only real progress seemed to be that my plug had come out and I couldn?t believe how much! The only way I can think to describe it is an elephant sneezing, it was pretty gross.
We went home and plodded around the house pretty much. I chatted to my mother and sister online, browsed the net, but mostly we sat on the couch watching TV and I spent some time soaking in the bath which really helped with the pain. I did try to lay down for a bit but found that the contractions were much worse when I did so I just walked around or sat.
They increased in intensity through the day to the point that I couldn?t sit down through them anymore but were still only 7 ? 10 minutes apart. It was around 4pm that they got to the point where some would bring tears to my eyes and I was pretty uncomfortable. But still they were irregular and I didn?t think to go to hospital just yet. I spent the next 4 hours or so just walking around the house contracting away until around 7:45pm when I contemplated calling the hospital and my mother and sister encouraged me to do so. I explained what was going on and they told me to go in for a check up and see how things were progressing and it was just after I hung up the phone that suddenly things sped up and contractions were coming every 2 ? 3 minutes.
We drove to my mothers to pick her up and it was pretty obvious during the car trip that we would not be going home again. We arrived at the hospital and slowly, ever so slowly made our way to Delivery Suite. Thank god it was quiet that night. When we went earlier in the day for the check up it was so busy we were sitting in the waiting room for a good half hour before there was anywhere for us.
Midwife tried to feel the intensity of my contractions but I don?t think she got much info there as she seemed a little surprised to find I was 6 ? 7cm dilated. She poked around and tried to figure out where his head was positioned and thought he might be posterior given that all my contractions were in my back. It was expected that things would move pretty slowly so I made use of the nice big bath which was really wonderful and took the pressure off. I could have stayed in there longer but I didn?t want to leave my mother in the room alone for that long as she had decided not to come to the bathroom with us.
We went back to the bathroom and things picked up a bit quicker with contractions stronger and even more frequent. I decided to give the gas a shot and had to have another internal which revealed me to still only be 6 ? 7cm dilated. She hooked me up to the CTG which forced me on my back and oh my god I wanted to kick that woman in the head for forcing me to lay down when it was so incredibly painful! All I wanted to do was to get up and lean over the bed again which seemed to be the best place for me. What was even worse was that the CTG was barely registering the strength of the contractions, not that I am surprised as they were all in my back. The gas did bugger all.
The midwife convinced me that it would still be quite some time and I was advised to take a pethadine shot which I stupidly did. Within 2 minutes of the shot my contractions were literally on top of each other and becoming seriously hard to cope with. I really think that she believed it to be low pain tolerance and my just not coping but oh my god it was painful. I had several contractions where every time they started I felt major pressure in my rear and finally said that I felt like I could push. Given that they then offered me an epidural I get the feeling they did not believe me but at that point it was excruciating and if it was going to last hours more then I was willing to accept the damn epidural despite how much I wanted to go natural.
It was only because I nodded to the extra pain relief that they did the internal and what would you know! 10cm dilated with membranes bulging. I told them to not bother with the extra pain relief and felt rather satisfied that I was right. They offered to break the membranes which was fine by me and we were pleased to see that the fluid was perfectly clear.
We started off on my back and I pushed through the contractions as one does? Tried on my side which did not feel as effective, nor was it on my knees. But when I moved onto my back again things started moving and he began to head down. The midwife was monitoring his heart rate between each contraction and it never wavered, he was calm the whole time.
I was surprised at just how much pressure you feel in your bum. All of it in fact, until the point when the head is just about to come out at least. Paul described to me how it looked from his perspective and really it?s no surprise that many women end up with some severe damage. I was getting a bit peeved with the midwife as she kept telling me to put my chin to my chest when I was pushing but it was more effective for me to tilt my head up. I also did not hold onto and hands in the end as I felt better pushing myself up off the bed rather than holding my legs and squashing down. In the end I think the realised that what I was doing was working for me.
Before too long the midwife was encouraging me to keep going without stopping for more than a breath and that he was moving down. I could feel the stretching and the pressure and finally he was there. He emerged with one hand over his face which we all thought was amusing given that at each ultrasound he wouldn?t move his hand out of the way.
Another push or 2 and there he was. He let out a beautiful cry and was placed on my chest where he soon settled and just looked at me. Paul was at my side and as soon as Alex was placed on my chest he burst into tears.
They placed him on my chest and he let out a loud healthy cry before calming down and just resting. It was one of the most beautiful moments of my life. Paul was still crying but he stopped long enough to call his parents and tell them through the tears that their first grand child was born and every thing was perfect.
I can?t really explain how I felt. I didn?t cry though part of me wanted to? I just felt content, serene? It was such an amazing mix of emotions and I just lay there looking at him, stroking his absolutely beautiful head of hair. I don?t know if I will ever be able to put that feeling into words, but it was overwhelming.
Alexander Eric was born on his due date at 11:36pm, only 3? hours after we arrived at the hospital and 45 minutes after they gave me the pethadine shot because it was expected to take several hours. Active labour was clocked at 7 hours and 15 minutes.
There was a few minutes wait before the placenta was delivered and everything looked perfect. I ended up with a small superficial tare on the vaginal wall due to his hand scratching it a long the way and was given one or 2 stitches just in case but everything else was intact and undamaged.
Due to post natal being full that evening we were given a diagnostic room in delivery which we had to ourselves and Paul was allowed to stay the night and that was lovely. I spent most of the rest of the night just looking at him in awe of just how gorgeous he is, something that I do every time I hold him. It?s just the most wonderful feeling in the world and it truly makes every second of heartache we?ve experienced over the years completely irrelevant.
I had many midwives come to me after and comment on the impressive effort, especially given that it was my first. They thought he was posterior at first but managed to turn mid delivery. The midwife who originally checked me in also was worried he was a big baby but he came out at a perfect 6lb 13oz or 3.1kg, 48cm long and a HC of 34cm? I didn?t understand why the midwife who delivered him commented on how he is not at all a big baby until I was told about it the next day.