Ok, bare with me. This is going to sound way out there, and it may be nothing at all.....however!!! Ill ask it anyway.
I had been noting for a while that Noahs Iris appears rather a pale pale blue and appeared to be lighter than when he was younger. Well finally got my butt into gear tonight and tracked back through old baby and toddler pics, then compared to a heap of now (recent) pics, so I could establish something to "compare". i.e. not just that it was lighting etc.
His eyes were (still bright and bold) but a much darker blue when he was little, they were a normal blue but quite stunning. NOW they are such a pale blue he isnt far from an albino blue.
I know eyes can change with age, but Ive never heard of them changing from solid blue to albino blue?
Any ideas where I can see if this is related to a nutritional deficiency? Im sure all his issues are going to come back to a nutritional problem, his eyes, his skin, and his height weight issue......I want to find it out before it does any more damage to his body though!
Suggestions on good sites? or do you know about nutrition and eye colour?
Heres a pic: you can see his skin colour has changed too. ALL his baby photos and toddler photos are the same, blue lovely eyes but a lot darker than now and his skin WAS a deeper colour, now he is pasty white and pale as can be blue eyes.
top one is toddler
bottom is now
and YES that is the same child! lol I had to look twice to make sure!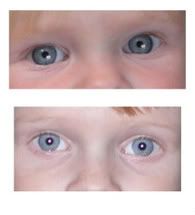 Edited by Cat©, 24 June 2009 - 10:26 PM.